Our staff's commitment to you
Our staff is committed to providing support, compassion, information, and direction as needed to all members of our community, their families, and friends who are dealing with loss and grief.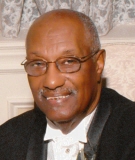 George G. Woody, Jr.
Owner
info@ggwoodyfuneralhome.com
N.J. Lic. No. 1925

George G. Woody, Jr. was born in Roselle Park, New Jersey to his proud parents, George G. Woody, Sr. and Lucy Boyd Woody. Raised in Roselle, New Jersey, he was a graduate of Abraham Clark High School where he was a member of the National Honor Society and excelled in Football and played drums in the School Band.

After graduation, George served his country in the United States Navy during World War II as a Specialist (X) DI. Following the long tradition of the Woody family, he enrolled in McAllister School of Embalming in New York and served his apprenticeship at David D. Woody Funeral Home in Newark, New Jersey. As a young man, he established G. G. Woody Funeral Home, LLC in Roselle in 1953 where he is the Manager and a Certified Funeral Celebrant.

Although George's career is a very fulfilling, interesting and rewarding, he also enjoys being a member of Second Baptist Church in Roselle for many years. He was an Organizer and Lifetime member of the Roselle Branch of the NAACP, a member of the Acacia Lodge #23 F & AM of Roselle, the First African-American Democratic County Chairman in the State of New Jersey, the first African-American Councilman and Municipal Chairman both in Roselle, Council President of the Borough of Roselle, Chairman of the Roselle Public Safety Committee, Board member of Urban League of Eastern Union County and Chairman of the Real Estate Committee just to name some of his accomplishments.

His affiliations are many including being a member of the Funeral Directors Association of Essex and Union Counties, Garden State Funeral Directors Association, former National Board Member of the National Funeral Directors and Morticians Association, former Chairman of the Union County Improvement Authority, and former Executive Director of the New Jersey Urban Loan Authority. He has served as the Liaison Officer for the Emergency Employment Act (EEA) for Vietnam Veterans. Mr. Woody has received many citations and awards both professional and for community service.

He is blessed to have the love and support of his family, his devoted wife, Beulah Mc Clinton Woody, a licensed Funeral Director; children: Carla Riemer, Leslie Ann Woody, a licensed Funeral Director, and George G. Woody III (deceased); and six grandchildren.

His life experience is vast and his contributions are immeasurable to the funeral industry and the many families he has served and is still serving.

~ "May the work he has done and is still doing speak for him."~