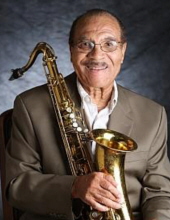 Obituary for Samuel Conrad Lester
Samuel Conrad "Connie" Lester, the son of the late Oscar DePriest and Belle McQueen Lester, was born on June 12, 1931 in Roselle, New Jersey. He was the youngest of four sisters: Doris, Fannie, Emma and Ernestine and a brother: Oscar, Jr., and lived long enough to see them all pass away. He was educated in the Roselle Public School system, graduated from Abraham Clark High School, and received extensive executive management education from Union College, Drexel University, Middlesex County Community College and the American Management Association. Starting out working for the park system, he eventually worked first on the line as a unionized factory worker, then as a foreman, eventually moving up as one of the first African Americans into the ranks of management at L'Oréal Lancôme's subsidiary, Cosmair, Inc. in Clark, New Jersey, where he worked for 40 years.

Aside from his family and friends, music was his great love. He was a brilliant jazz musician, adept at playing the alto, tenor, and soprano saxophones, as well as the clarinet and piano. As a young man, he modeled himself on his idols: Lester Young, Dexter Gordon and Charlie Parker, and became one of the most sought after "sidemen" in the region. He played with many pioneering Hammond B-3 jazz organists, including Jimmy McGriff, Freddie Roach, Rhoda Scott, Larry Young and Specks Williams; and with guitarists Kenny Burell, Eddie Wright, Jimmy Ponder and Vinnie Corrao; drummers Roy Haynes and Eddie Gladden; pianist Richie McCrae; singers Etta Jones and Little Jimmy Scott, and so many others. He played at historic venues in the history of jazz in New Jersey, such as the Key Club, the Priory, Sparky J's, LCs, the Front Room, the Torch Club, the Cadillac Club, Playbill Lounge, the Cornerstone, Tropicana Lounge, and others, as well as at Birdland in NYC.

He received many honors, including a proclamation by City of Newark thanking him for his "decades of contributions to the residents of this great metropolis through music and the sounds of jazz ... [and for his many] gestures of hope and grand living." In his senior years, he continued to play and mentor younger musicians as a member of the popular jazz ensemble, "Newark Jazz Elders." Along with other New Jersey jazz luminaries, he was included in the historic 2003 photo shoot at New Jersey Performing Arts Center, "A Great Day in New Jersey". He was an active member of the Musicians Guild of Essex County Local No. 16, A, F of M for 65 years.

His landmark recordings ("All That's Good", "Brown Sugar" and Mo' Greens Please") with Freddie Roach on Blue Note Records, Jimmy McGriff ("Main Squeeze" and "The Funkiest Little Band in the Land") on Groove Merchant Records, and Joe Carrol ("Man With A Happy Sound") on Charlie Parker Records - are now sought after collector's items. In an interview with The Newark Star-Ledger in 2003, he said: "I just wanted to play with different people. I just loved to play."

Conrad was a kind, loving man who also had a passion for animals, especially dogs. He also enjoyed gardening. His famous green thumb cultivated everything from tomatoes, collard greens and peppers, to peonies, hydrangeas and dahlias, which he generously shared with neighbors, family and friends.

Conrad leaves his wife of 65 years, Melba Lester; two daughters: Toni Lester and Traci Lester; granddaughter, Hailey Lester; and many beloved cousins, nieces, nephews and dear friends.
Previous Events
Memorial Service
Rose of Sharon Community Church
825 W. 7th Street
Plainfield, NJ 07063
In lieu of flowers: Please feel free to make a donation in Conrad "Connie" Lester's name to: Newark Public Radio, Inc. / WBGO. Attn: John Newcott/54 Park Place/Newark, NJ 07102. Checks should be made out to: Newark Public Radio, Inc.
Cemetery Details
Location
Hillside Cemetery
1401 Woodland Avenue
Scotch Plains, NJ 07076